Jose Mourinho and Manchester United need to be "very careful" that any conflict at the club does not strengthen Manchester City's hand, according to former Red Devils assistant boss Mike Phelan.
Manager Mourinho denied there was any rift with executive vice-chairman Ed Woodward on Friday, during a tetchy press conference looking ahead to Monday's Premier League home clash with Tottenham.
The Portuguese has nonetheless made clear his frustration over the lack of extra signings during the summer, which saw three players join – midfielder Fred, full-back Diogo Dalot and goalkeeper Lee Grant.
And after the season-opening 2-1 home win against Leicester, the failure to improve in defence appeared glaring in the 3-2 loss at Brighton last weekend.
Defending champions City, who United finished 19 points behind in second place last season, have taken seven points from three games so far this term.
Phelan told BBC Radio 5 Live's Sportsweek programme: "I think what is there at the moment is fierce competition within the city, and if Manchester United are at loggerheads within the club I think it just helps fuel Manchester City's cause more than anything else.
"And I think that's something they need to be very careful of because Manchester City are a very big club now and they're very well run and they know how to use certain situations, and I think that helps – unrest across the road helps."
When asked if he believes Mourinho will still be in charge at the end of the season, Phelan, who spent five years as number two to Sir Alex Ferguson at Old Trafford, said: "Results and performances will dictate that. The end of the season is a long, long way away.
"But he needs to now get results. He's on the back of what was a disappointing performance and result.
"It's all going to come down to a mixture of everything. Most managers are concerned with results, most clubs are concerned with results, but he has to perform as well – and the less said and the more action probably is better."
The loss at Brighton was followed by a report that disillusionment about Mourinho's methods was growing in the United dressing room, and there has been plenty of questioning of Paul Pogba's happiness at the club.
However, Fred, who started the Leicester game and played the full duration against Brighton, says the dressing room at United "has an excellent atmosphere".
The 25-year-old Brazilian, signed from Shakhtar Donetsk in June, told ESPN Brasil: "The media love to talk.
"The dressing room has an excellent atmosphere. From what I've seen since I arrived, no one has a problem with anybody. It's the contrary. Everyone wants to help everyone.
"(The criticism) is normal. We lost a match. It is a big team, a European giant. It is normal that people talk, but Mourinho is a great manager.
"I am really happy to be working with him. I'm really happy to be part of this group as well, because it is a really good and closed group. We are all finding solutions to help us improve on the pitch to find our victories."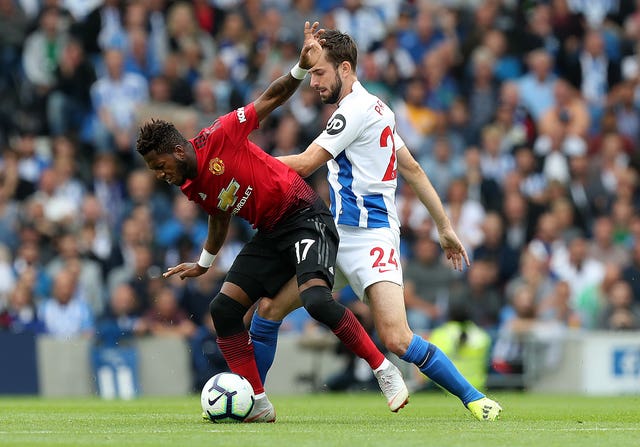 Fred added: "No one is happy after a defeat. I was very angry about this defeat (against Brighton) and we could have gone top, but this is football.
"Unfortunately, we didn't play well, but now we have a big game in front of us and we need to try to improve and look for the victory."