Brooks Koepka has described hearing that a spectator struck in the eye by one of his tee shots during the Ryder Cup could suffer long-term consequences as "probably one of the worst days of my life".
Corine Remande was hit by a wayward shot on the par-four sixth hole at Le Golf National in Paris and there have been reports she could lose the sight in her right eye.
Koepka said in a statement on Twitter on Tuesday that he was "deeply hurt and saddened" by the incident and also addressed what happened in a press conference on Wednesday ahead of the Alfred Dunhill Links Championship.
"Yesterday was probably one of the worst days of my life," Koepka said. "I haven't had too many tragedies in my personal family where there's been a loss or any kind of tragic accident so I've been lucky in that sense.
"I wasn't told until I got to the course – I'm not the biggest person on social media – so when I got here and had about seven missed calls and 25 text messages I was like, 'What's going on? Then I was told the news and obviously I am really heartbroken.
"My stomach sank. Yesterday was probably one of the hardest days trying to focus and play golf just knowing what was going to come when I was done.
"I spent an hour-and-a-half of my round on the phone trying to understand what was going on because it's hard to get the real story of what was going on. I didn't know if it was fake or not and you want to find out. It's sad and I really am torn up about it."
In Koepka's earlier statement on Twitter, the reigning US Open and US PGA champion said he was "heartbroken" and had been in contact with Remande's family to offer his "heartfelt sympathy."
The 49-year-old Frenchwoman was treated on the course and in a nearby hospital before being transferred to Lyon.
The European Tour has said it will offer "support for as long as necessary" to her.
In a statement released to Press Association Sport, a Ryder Cup spokesperson said: "It is distressing to hear that someone might suffer long-term consequences from a ball strike.
"The spectator hit by a ball at the sixth hole during Friday's play was treated by first responders immediately and taken to hospital.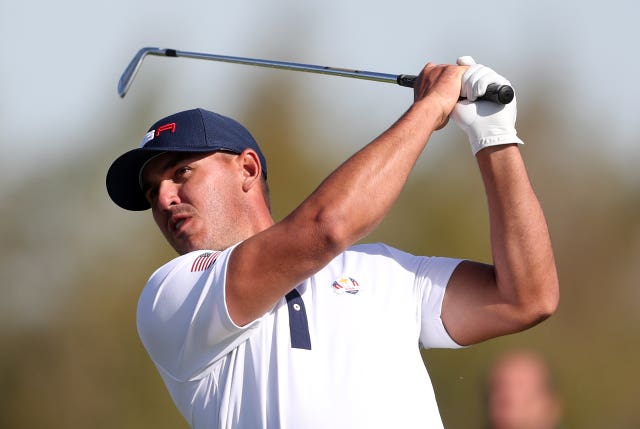 "We have been in communication with the family involved, starting with the immediate on-course treatment and thereafter to provide support, helping with the logistics of repatriation, including providing a transfer for the family from Paris to Lyon. We will continue to offer support for as long as necessary.
"Ball strikes are an occasional hazard for spectators, but this kind of incident is extremely rare. We can confirm that 'fore' was shouted several times, but also appreciate how hard it can be to know when and where every ball is struck if you are in the crowd.
"We are hugely sympathetic and will do everything we can to support the spectator, insofar as that is possible under very difficult circumstances."
Europe captain Thomas Bjorn said it was a "freak accident".
He told Press Association Sport: "For me, the whole team I represent and everybody at Ryder Cup Europe, it's just a terrible thing and something that you don't want to happen.
"It's terrible, it's a freak accident that's happened, and all our thoughts are with her."
Koepka went on to win his match with Tony Finau, beating Justin Rose and Jon Rahm, but was still upset about the incident afterwards.
He said at the time: "It doesn't feel good, it really doesn't. You feel terrible for them. You know exactly how they are feeling, especially when you've got to go over there and apologise, because they are in pain, usually bleeding, and then to hit her in the face – you don't want to hit anybody in the face, especially not a woman, and it's not a good feeling."